Maternal and Child Health Promotion
Improving Moms' and Babies' Health - Helpful Health Information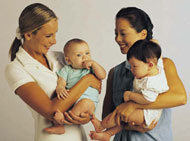 The Illinois Department of Healthcare and Family Services is committed to improving the health of women and children. The department has recently created a new bureau specially dedicated to this goal. As part of this goal, the department wishes to share health information with the public so that we can work in partnership with you to help children have the safest and healthiest start in life and to ensure the health of their moms as well.
The department serves as an advocate in promoting wellness through a continuum of comprehensive healthcare programs. Improving the health status of mothers and children can be achieved through education, prevention and partnerships with other programs.
New Initiative- Recognizing and Treating Perinatal Depression
In recognition of the importance of screening and treating women suffering from perinatal depression, and in collaboration with the governor's task force for perinatal depression, the department is initiating reimbursement for perinatal depression screening.
2010 CMS-416 Reporting of EPSDT Services for Children
The Early and Periodic Screening, Diagnosis and Treatment (EPSDT) program is a comprehensive federal-state program that provides initial and periodic examinations and medically necessary follow-up to low-income children under age 21 who are enrolled in Medicaid. The EPSDT program includes medical, dental, vision, and hearing services. View the 2010 CMS-416 Reporting of EPSDT Services for Children (pdf) on the HFS Web site.
Useful Health Information:
In partnership with Illinois Department of Healthcare and Family Services' (HFS) Quality Improvement Organization (QIO) and funding from the Michael Reese Health Trust, HFS developed a Preconception Risk Assessment and Clinical Guidance Tool to be used by providers during a routine office visit with women of childbearing age. The tool supports the department's goal to improve reproductive health and pregnancy outcomes:
All women of childbearing age have high reproductive awareness (i.e., understand risk and protective factors related to childbearing).

All women have a reproductive life plan (e.g., whether or when they wish to have children, how they will maintain their reproductive health).

All pregnancies are intended and planned.

All women of childbearing age have health coverage.

All women of childbearing age are screened prior to pregnancy for risks related to the outcomes of pregnancy.
The risk assessment tool was designed using recommendations and guidelines from nationally recognized provider organizations. The tool includes an assessment of medical conditions and medications that may affect or be affected by pregnancy; lifestyle or social behaviors such as, use of tobacco and alcohol or other substance abuse, which adversely affect the pregnancy; reproductive health history to identify risk based on prior history as a means to intercede future occurrences; and, contraceptive use to educate and support the preconception period.
The tool was pilot tested by several provider practices. At the end of the piloting period, the providers made recommendations for improvement on content and ease of use. HFS' QIO enlisted a panel of expert OB/GYNs to evaluate the provider's feedback, and review the tool in order to ascertain its sensitivity and the effectiveness in identifying risks. In conjunction with the tool, clinical guidance was developed from extensive literature reviews to identify recommendations from experts in the field, as well as obtaining guidelines from nationally recognized organizations.
The Preconception Risk Assessment and Clinical Guidance Tool (Form HFS 27 (pdf) is now available for providers to use during a routine office visit for women of childbearing age. Providers using HFS Preconception Risk Assessment Tool or other formally validated, nationally distributed, by a national organization, and individually administered tools will be reimbursed. For more information about reimbursement and use of other tools, please refer to the March 9, 2012, Preconception Risk Assessment Provider Notice.
Recommended Related Articles:
In Illinois, there are many maternal and child healthcare service providers that help families receive the care they need to have healthier mothers, babies and children. The department's Bureau of Maternal and Child Health Promotion is assisting providers, consumers and other interested parties by providing this Web site and links to other Web sites. For more information, call the Health Benefits at 1-800-226-0768 and All Kids Hotline at 1-866-ALL-KIDS (1-866-255-5437) or TTY: 1-877-204-1012.